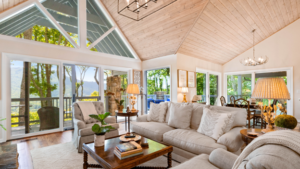 If you've ever shopped for furniture, you know how overwhelming the choices can be. From traditional to modern, there are endless styles of furniture. But what about construction? How do you know which type of construction is best for your home and lifestyle?
Read on to learn more about the different kinds of furniture construction and why Pies Lockport Furniture is committed to providing only the highest quality pieces for your home.
Solid Wood Construction
The first type of construction we'll discuss is solid wood. This type of construction refers to furniture constructed from a single piece of hardwood, such as walnut, oak, or mahogany. Solid wood furniture is extremely durable and can last for generations when properly cared for. In addition, because it is made from natural materials, it has a unique beauty that will never go out of style. At Pies Lockport Furniture, our solid wood pieces are constructed with attention to detail and craftsmanship, ensuring they will stand the test of time.
Veneer Construction
Another type of construction used in furniture making is veneer. A veneer consists of thin slices of hardwood glued onto a substrate material like medium-density fiberboard (MDF) or particle board. Veneer offers the same look as solid wood but at a lower cost because fewer materials are involved in the process. Plus, veneers don't require as much maintenance as solid wood, making them ideal for busy households and those with limited time for upkeep. At Pies Lockport Furniture, we use only high-quality veneers that are sanded smooth and finished with non-toxic sealants, making them as beautiful and long-lasting as solid wood pieces.
Metal Construction
Finally, metal furniture offers a sleek modern look that stands up well against everyday wear and tear—perfect for active households! Metal pieces come in all shapes and sizes, from industrial-inspired stools to art deco-inspired chairs—there's something suitable for every decorating style! Our metal pieces at Pies Lockport Furniture are crafted from heavy-duty steel or aluminum that resists scratches and dents while still being lightweight enough to move around easily when rearranging your space!
Furniture isn't just about style—it's also about quality construction that will keep your pieces looking great year after year! At Pies Lockport Furniture, we understand this better than anyone else. We only offer high-quality furniture made from solid woods, veneers, or metal, so you can rest assured knowing that whatever piece you choose will last for years to come!
Whether you're looking for something modern or traditional, our knowledgeable staff can help you find exactly what you need! Contact us today to learn more about our selection and find the perfect piece for your home!
Pies Lockport Furniture has served Lockport and the surrounding Western New York Towns and Communities for more than 97 years. We are a family-owned & -operated local furniture store; committed to selling quality home furniture at affordable prices with a personal touch!